Water is one of the world's most important resources. The element is essential in many areas, from agriculture to industry, as industrial and process water. Yet for many, clean water is a luxury.
Every year, World Water Day draws attention to this issue. Freudenberg also makes an ongoing contribution to preserving this precious resource. Together with project partners, the company creates access to clean drinking and process water – especially where it is most needed. To raise awareness of this issue as well, we offer you insights into some initiatives and success stories with regard to our products. Find out how Freudenberg technologies in sewage treatment networks or seawater desalination plants, as well as donations by means of AquaBlock systems, help to improve the well-being of others, design processes more ecological and make industries more sustainable.
The most recent of our projects:
AquaBlock systems provide clean water to Ukraine
Freudenberg supported Planet Water with funding to place six systems in areas of most need.
Millions of people in Ukraine are struggling to find access to clean water due to attacks on their water infrastructure. As a company committed to providing humanitarian aid, Freudenberg has funded six AquaBlock systems through the Planet Water Foundation that have been delivered to areas in the eastern border region of Ukraine in critical need of access to clean water.
"Reacting quickly was essential in this situation, and we did not hesitate. Due to the overwhelmingly positive experience we have had working with Planet Water in other regions, we knew this organization was prepared for such a complex and difficult task. We are happy that we could do our small part in ensuring timely help to people who lack access to clean water in Ukraine," said Hanno Wentzler, Chairman e2, Freudenberg Group.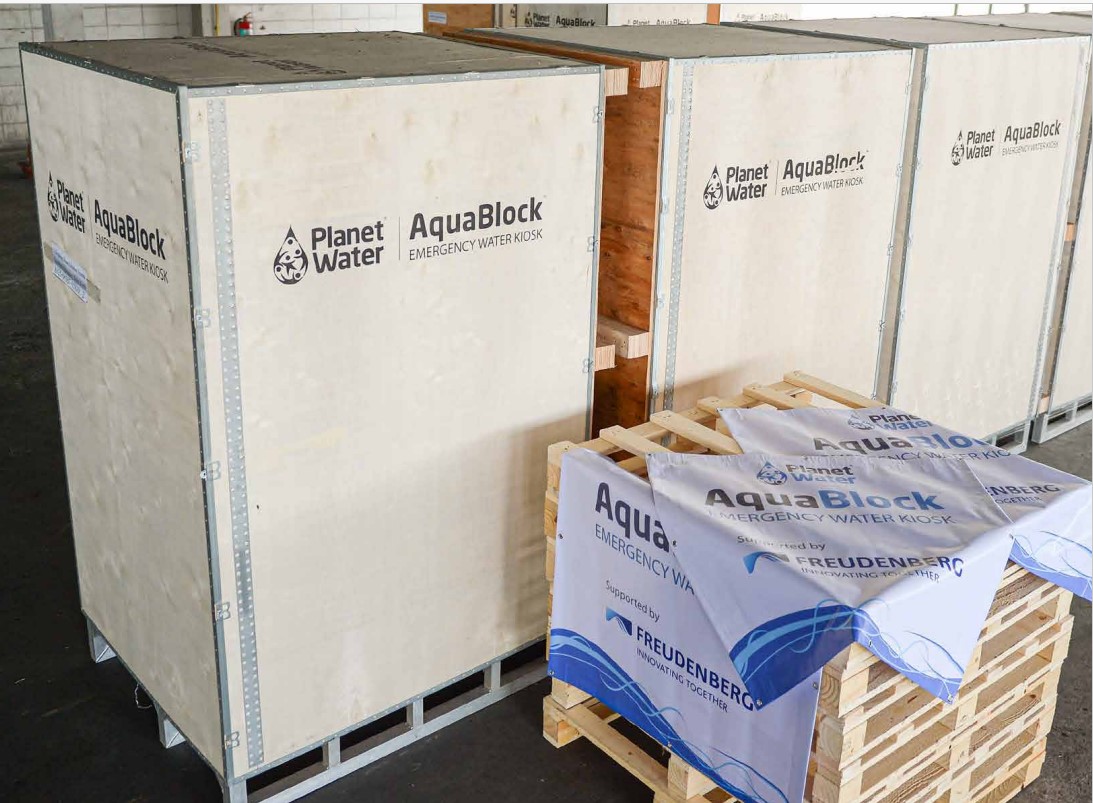 The AquaBlock system is unique in how it operates which makes it one of the best solutions for Ukraine during this time. It has the ability to purify both surface and ground water with its four-stage purification process. Due to the unstable infrastructure, flexibility is key in Ukraine which the AquaBlock system offers with its three on-board pumping solutions. An AquaBlock can be powered by petrol, electric or manually with a treadle.
Each AquaBlock is capable of producing up to 1,500 liters of water per hour supporting the daily drinking water requirements of up to 10,000 people.
Freudenberg has been working with Planet Water to provide clean water to communities around the globe since 2019 and continues to work closely with the organization to provide clean water where it is needed most.