What do children need to start life well prepared? Besides a good education, it is the feeling that someone believes in them. Thanks to e² and the personal commitment of EagleBurgmann employees, the children at Kirk Elementary School in Houston, Texas, now have much better chances for the future.
The daily challenges for the teachers at Kirk Elementary School in Houston, Texas, were great in 2014: How could they do justice to every single child, support them individually and, above all, prepare them for secondary school, especially in mathematics and reading? It is even more dificcult when a majority of students come from financially disadvantaged households and sometimes difficult private circumstances. At that time, only 63 percent of the third graders achieved the required minimum in reading, and 75 percent were at a standard level in math. The gap with other elementary schools seemed large and almost unsurmountable.
Employees from EagleBurgmann started a collaboration with the school
The EagleBurgmann site located in the neighborhood recognized the problems. Employees started a collaboration with the school in 2014, and in 2015, when the e² initiative started submitted a multi-year project proposal. With the approved funds, the school staff purchased flexible seating and secured online access to academic software programs to help children with reading and math. The goal was to use so-called blended learning to create an environment where students could enjoy learning and continuously improve from their own personal levels.
Blended learning is a teaching method that combines virtual and traditional learning methods. At Kirk Elementary School, the children work together in small groups. The teachers can thus respond to different learning needs and speeds.
"This method of learning has two benefits at once," explains Principal Kathryn Ford. "It allows us teachers to attend to each student's individual needs at the same time. Plus, learning with a tablet and PC prepares kids for jobs of the future, where using virtual environments will likely play a big role." Not long after, the success of the program was evident: In 2019, 68 percent of third graders already met the criteria for a significantly increased level of knowledge in mathematics, catching up significantly with other schools.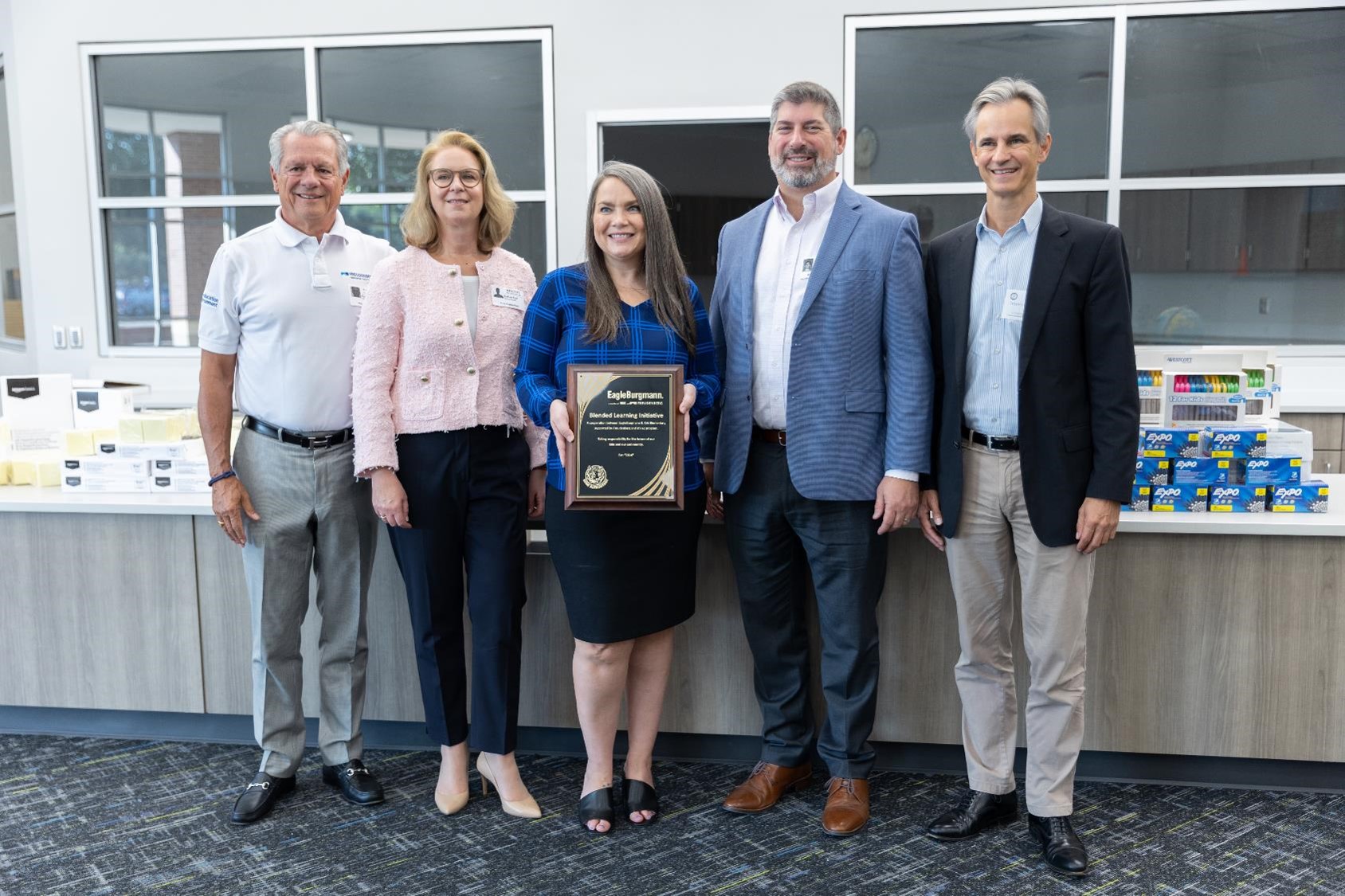 Elementary school students benefit from financial support and personal contacts
In addition to the financial support, the elementary school students also benefit from personal contacts with EagleBurgmann employees who have been volunteering as student mentors since 2015. "Many are raised by single parents and have little social contact outside of their parents' home," explains Tess Eugenio, who works as a Compensation & Benefits Specialist at EagleBurgmann and has been involved in the project since 2019. "That's why it's even more important that these children have people in their lives who encourage them and believe in them." Eugenio hopes to inspire a total of around 60 colleagues to get involved by the start of the new school year in September, because helping hands are needed in many places.
Helping the kids is helping the whole neighborhood.
Kathryn Ford, Principal Kirk Elementary School
With the follow-up application approved in March of this year, the project not only secured its position as the 150th e² projectoverall, but more importantly, necessary funds for the purchase of books and school supplies. "In the coming year, we want to help fill the gap left by Covid-19," Eugenio makes clear. In addition to the mentoring program, this includes personally helping children learn to read or with technical issues in the classroom and fulfilling children's heartfelt wishes during the Christmas season. "For us as employees, it's fulfilling to be able to take care of these children and work with the teachers," Eugenio continues. "To see how positively these children develop is very moving."
Ford is also pleased with Freudenberg's ongoing assistance, "EagleBurgmann's support is tremendously important to us and ensures that our classrooms can continuously transform into a student-centered environment for the long term," she said. "This is help that not only benefits our children, but our entire neighborhood and community."