In this article, employees talk in their own words about diversity & inclusion best practices, their experience of D&I in the workplace and provide their views on the topic. Today, we're giving you an insight into how collaboration in a culturally diverse team can work. Bernhard Gilch, Director TSS Pump Seals, EagleBurgmann Germany GmbH & Co. KG, Wolfratshausen, Germany, writes about his experiences with colleagues from all over the world.
Individuals from diverse backgrounds offer many different talents, skills, and experiences, that we can benefit from.
Devrim Sanli
May 21 is World Day for Cultural Diversity. And there's more: May is also European Diversity Month. Both initiatives emphasize how important D&I is – not only in society, but also in the workplace.
Cultural diversity at work means being open to and accepting of people from different backgrounds, regardless of ethnicity, religion, or culture. This is the premise on which constructive collaboration in the working environment is based. The Freudenberg world is international and convinced that diversity not only enriches life at work but can also build bridges.
Introducing his team, Bernhard Gilch explains: "We have 31 colleagues in our department, all based in Wolfratshausen. Our team members come from Turkey, Palestine, Mexico, Venezuela, Colombia, USA, Italy, China, Ukraine and of course Germany. As a team we speak German, English, Spanish, Hindi, Kannada, Chinese, Italian, Russian, Ukrainian, Greek, Arabic, Turkish and Bavarian."
"Every culture is unique and brings with it its own knowledge, new thoughts and its own situational approach. In order to work together successfully, greater flexibility and tolerance is required across teams. This leads to a broadening of one's own horizons by opening oneself up to new things. The team grows beyond itself, and performance is increased significantly. Of course, there are also challenges associated with culturally diverse teams. On the one hand, expressing yourself with all your emotions and experiences can be difficult in a foreign language and, on the other hand, understanding the other side correctly can be just as challenging," says Bernhard Gilch.
Different approaches to solve problems or work on challenges provide new views on topics which may lead to unconventional, but excellent solutions for EagleBurgmann and our customers.
Andreas Winkler, EagleBurgmann ACEMEA
All in all, the team agrees: The advantages outweigh any potential obstacles, and no-one would now want to forgo working in a culturally diverse team.
Working in a diverse team is a great way to learn from different cultures. It makes us value our differences while recognizing our similarities and gives us the opportunity to work together as a team to tackle even bigger challenges.
Gabriela Lopez, EagleBurgmann ACEMEA
So, what do you get when you use one word to describe diversity? The team in Wolfratshausen was asked to do just that. They each came up with a word that best represented working in a diverse team for them. Openness, creativity, connectivity, and fun were some of the words they used to describe the positive aspects of diversity in practice. These were then summarized in a word cloud: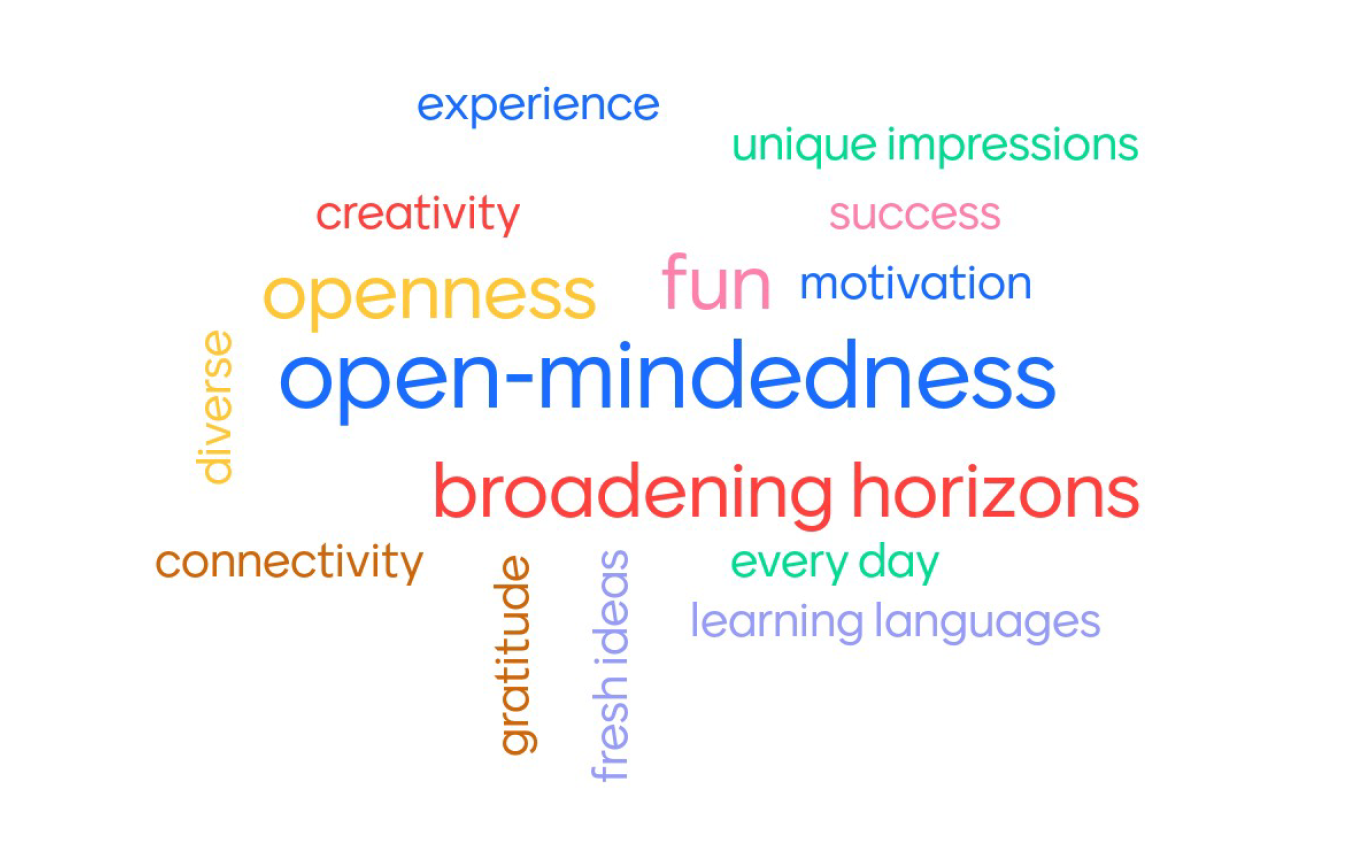 There are more than 60 different nationalities at EB ACEMEA and in excess of 52 languages are spoken at the company. The UN World Cultural Diversity Day for Dialogue and Development reminds us to reflect on how diverse cultural perspectives can inspire creativity, drive innovation, and provide greater opportunities for personal and professional growth.