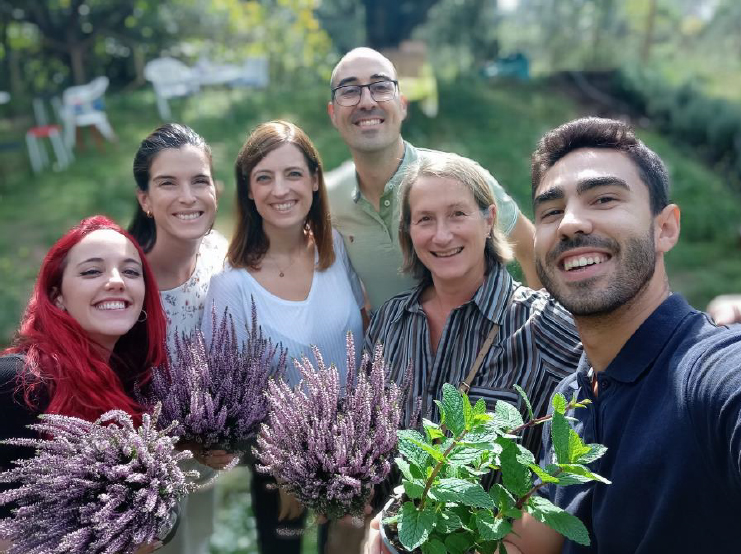 Freudenberg Home and Cleaning Solutions (FHCS) employees have resumed their "BeeResponsible" e² project.
Recently, they held a one-day event in Mataró (30km from Parets del Valles near Barcelona) to learn more about the busy world of bees.
"BeeResponsible" is an e² project launched by FHCS Ibérica with a team each in Portugal and Spain. The aim is to protect bees and raise awareness among the public, as well as Freudenberg employees, about the importance of bees for the biodiversity on which we all depend. Among other things, volunteers are involved in planting bee-friendly flowers and trees and building insect hotels at the Freudenberg sites.
Recently, the team visited the hives in Mataró to see how the bees live and organize themselves. Preparing for the visit on location was a little more complicated than expected. But with patience and team spirit, the FHCS volunteers rose to the challenge and were soon ready to get down to work in their somewhat cumbersome, but nevertheless essential, protective gear. The team began by learning about the life cycle of bees and how honey is made. The job of honey production falls to the female worker bees. Known as foragers, they first fill their stomachs with nectar from flowers before returning to the hive to turn it into honey. Male honeybees, which make up about ten percent of the hive population, spend their lives eating the honey, before leaving the hive to mate.
While visiting the hives, the team encountered some unexpected visitors: Invasive Asian hornets. These giant hornets are the largest wasps in the world and pose a significant threat to the integrity of the beehive. As omnivores, they are well-known for their "slaughter attacks" on colonies of much smaller bees.
So, to put the buzz back into the bees and ensure they could continue to make honey undisturbed, the team decided to plant a small garden of heather – a valuable source of nectar and pollen for bees and medicinal properties that protect the bees from internal parasites. And of course, being Vileda, the FHCS team took the opportunity to plant the heathers in the shape of a V!
With social projects close to the hearts of Freudenberg employees, the FHCS Ibérica team once more volunteered their services at the Vale Gonçalinho Environmental Education Center (CEAVG) in Castro Verde, Portugal in February. Working in partnership with the Liga para a Protecção da Natureza (LPN), they reconstructed 18 meters of an ancient stone wall, with the aim of providing a refuge for pollinators. Castro Verde's habitat depends on pollinators for its continued existence: Crevices in stone walls provide excellent shelter for various species, including wild bees.