A pencil and a piece of paper is how Ruane Jeter at Freudenberg Medical begins designing a crucial device used for minimally invasive heart procedures.
Millions of people around the globe rely on cardiac catheters every year. Doctors are using these devices with the utmost precision to diagnose and treat patients with heart problems. For Ruane Jeter, the process of designing this lifesaving device begins as an art form.
"Sketching my ideas on paper, for me, my mind works better that way," said Jeter, Product Development Engineer at Freudenberg Medical and industrial designer by profession. Jeter's process starts with free-flowing creativity but quickly shifts to a maximized precision approach through computer-aided design.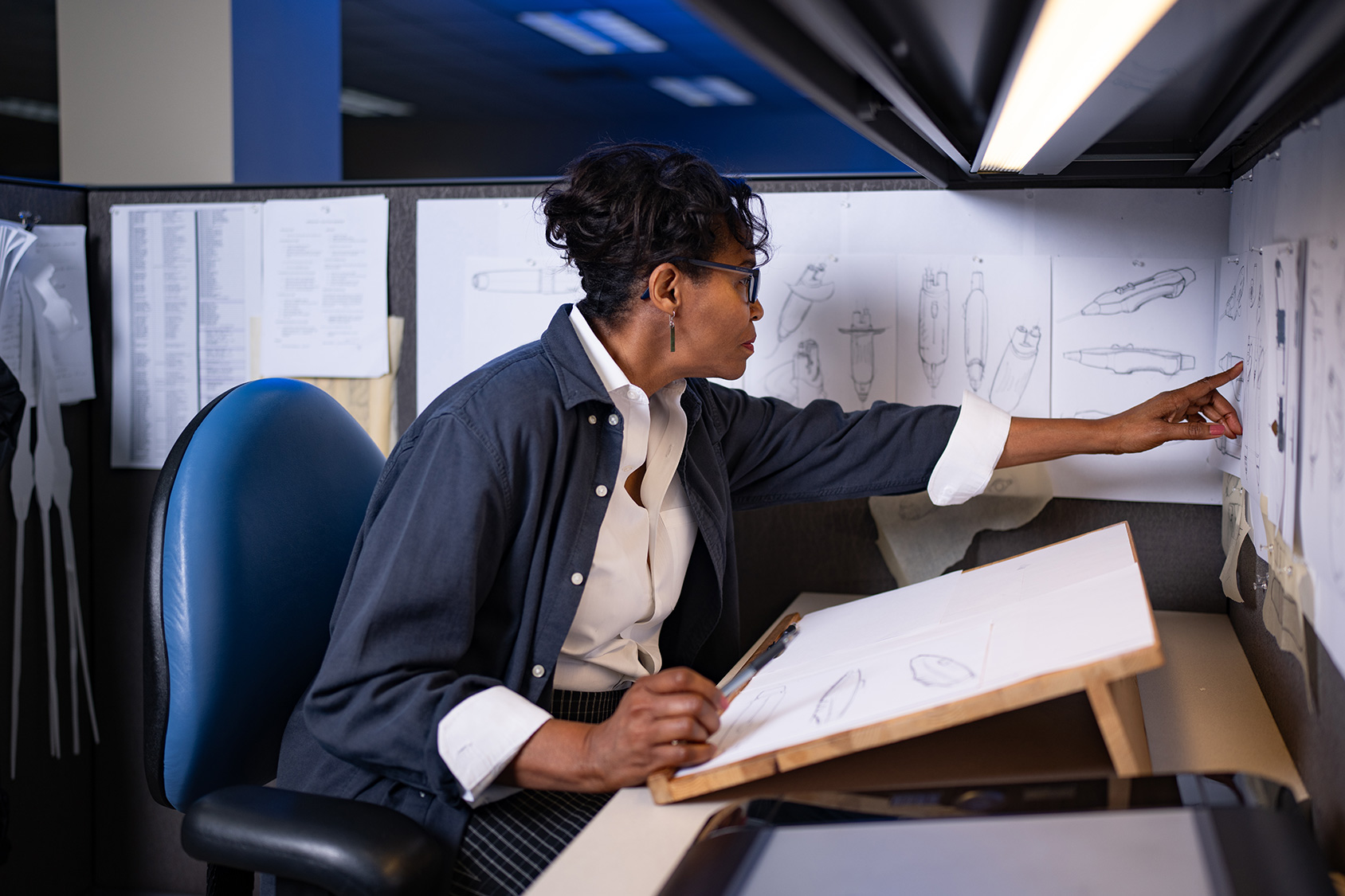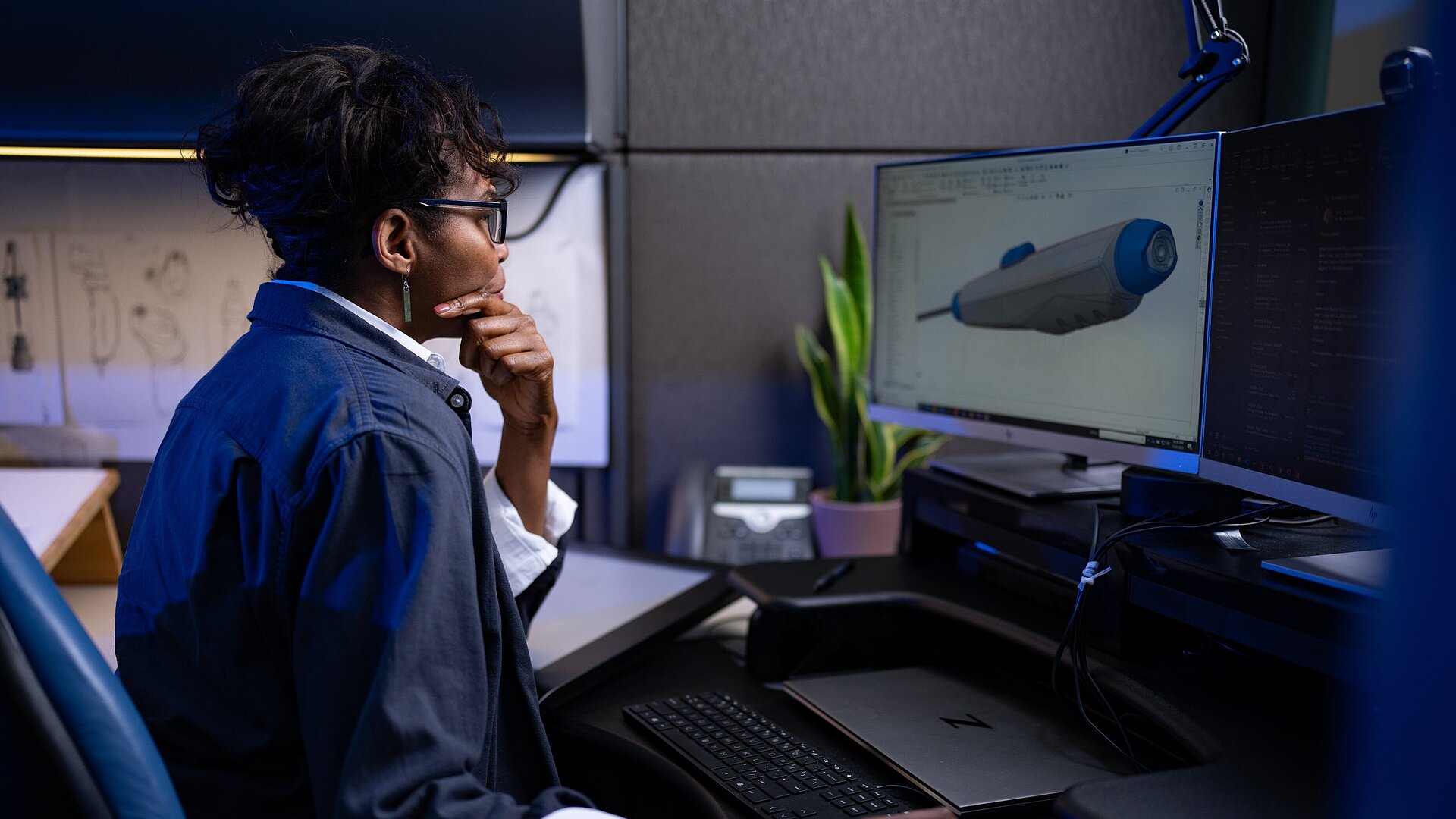 It´s a match: creativity and technological precision
In minimally invasive surgery, the catheter handle essentially replaces the surgeon's hands during open-heart surgery. "The handle is the doctor's strongest connection to his patient during a procedure. It plays a critical role in placing a stent or a new heart valve exactly where they are needed in the human body," Jeter said. "When a catheter needs to be directed to a beating heart, accuracy is paramount. This must be in focus as I create my designs," said Jeter.
When a catheter needs to be directed to a beating heart, accuracy is paramount. This must be in focus as I create my designs.
Ruana Jeter
The human factor and stringent regulations
Jeter works under the pressure of knowing her designs will become products that undergo rigorous testing, keeping in mind the stringent regulations of the medical industry. "You're thinking ergonomics and the human factor of the hand holding it," said Jeter. "I need to ensure I create a design that optimizes visibility and ease of use. Plus, it must be practical for a surgeon during a lengthy procedure."
Form follows function – and vice versa
Jeter must also consider each customer's design specifications. Design language is the visual identity of any brand or company. "Function is always first when designing a medical device," said Jeter. "It's a delicate balance to create a product that maintains the high quality of the device while also meeting the design needs of the customer, but when we reach that point it's a great feeling." To achieve this, it is important that the design language is included from the beginning.
A career in the medical industry is something Jeter says came naturally. "It was just always around me," said Jeter. Growing up in Cleveland, Ohio, USA, Jeter watched as her aunt led one of the world's top medical centers for cardiac care. Jeter had two other family members who were also doctors. Once she was introduced to the process of product design, she decided to follow a career in the medical industry: "If not saving lives like my relatives in the operating room, then developing products that save lives just made sense for me."
Jeter has been designing products for more than 20 years and holds 34 patents in the United States alone, and others in Europe and China. Currently, Jeter is heading the Center of Excellence for catheter handle design at Freudenberg Medical.