At the Oktoberfest 2022 it was again to see: "Dirndls with a dash of Lola" are distinctive and in high demand. Fashion designer Lola Paltinger is famous for her unique dirndls. Freudenberg's nonwovens lend themselves to making these magnificent garments fit their wearers like a glove.
Lola Paltinger has a passion for fashion. "It is amazing to see a design take form. I am part of creating something new and inspiring," she says. "I love seeing people wear my fashions and notice how every part accentuates the wearer's personality." Flowers, sequins or satin borders: Opulent, sophisticated dirndls hang in her Munich showroom, many embroidered by hand. "My main ambition is to combine tradition and trends, thus making traditional costumes livelier. Of course, my inspiration comes from traditional garments from around the world, with their workmanship, details and embroidery. I'm just as excited about trends and fashion with their surprising transformations. I combine it all into a unique style and give it my signature: The oft cited dash of Lola," says Paltinger.
My main ambition is to combine tradition and trends, thus making traditional costumes livelier.
Lola Paltinger, dirndl designer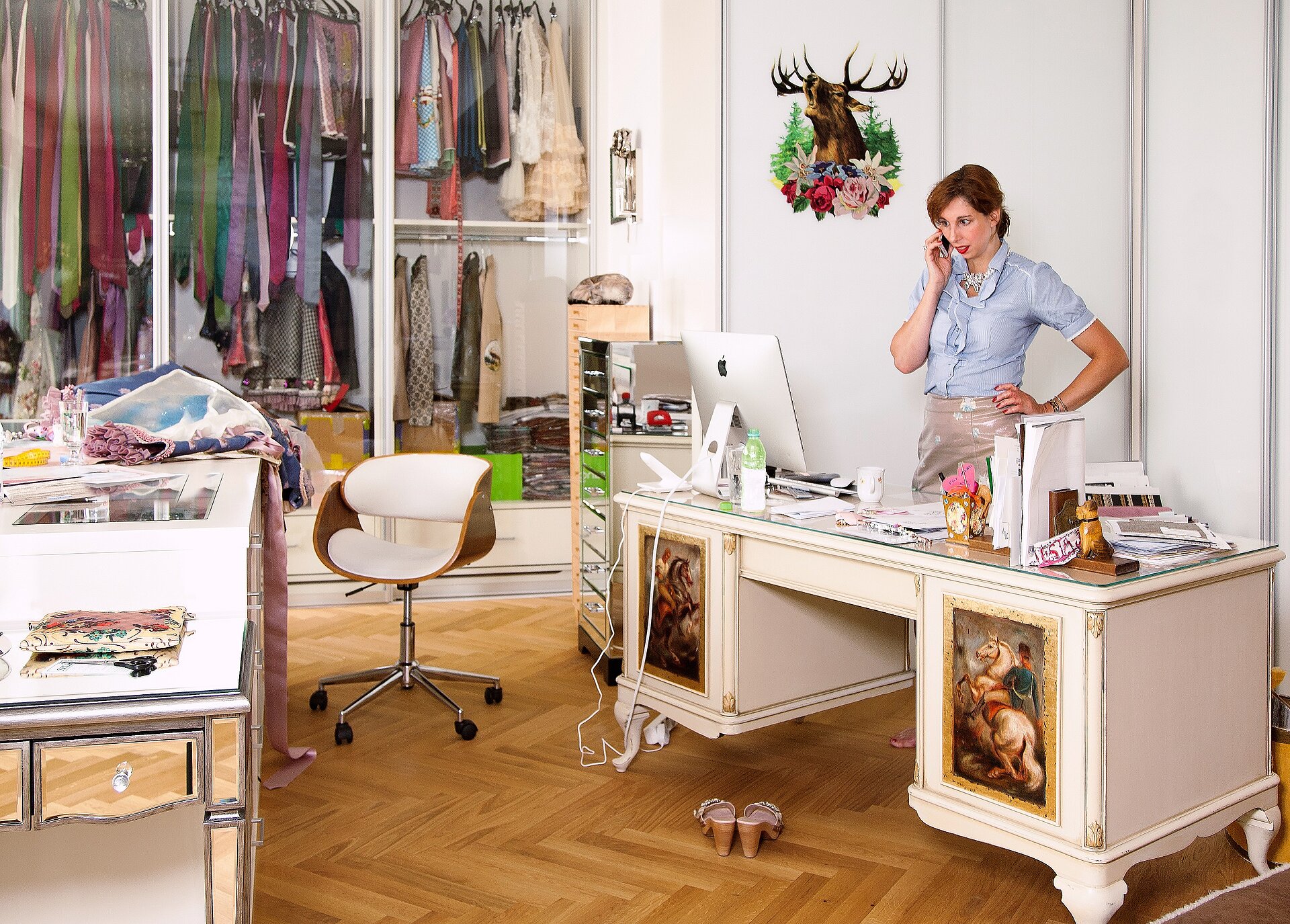 Dirndls with pop and rock
The 46-year-old studied at Munich's Esmod Fashion Institute, completed an internship with the legendary British fashion designer, Vivienne Westwood, and then set up her own label, "Lollipop und Alpenrock" in 1999. Today the artistic, individual creations from the successful designer are sewn in her dressmaking studio in Nuremberg. She also appears on camera promoting her "Himmelblau by Lola Paltinger" Collection.
It's what's on the inside that counts
Nonwovens from Freudenberg make it possible to turn her ideas into one-of-a-kind dirndls. The interlinings play a key role in fashion design because they ensure that the fabric of blazers, pants and other garments fits perfectly. The technology company has developed special elastic nonwovens for a high degree of stretch. "Freudenberg's nonwoven interlinings are vital to the insides and structure of my garments. We are always trying out new techniques and interlinings. Every season brings new fabric combinations and changing needs. Hardly conceivable without innovations from Freudenberg."
Freudenberg's nonwoven interlinings are vital to the insides and structure of my garments.
Lola Paltinger, dirndl designer
What are the current trends? "There are a lot of trends at once right now. On the one hand you have traditional garments, as well as the very fashionable dirndl, each with a different use. Customers decide what type of event or what time of day to wear the various traditional costume. In any case, they should not be over-styled, a certain naturalness is needed. A touch of glamor for certain events is possible, but the overall image needs to work," says Paltinger.
Hard work and persistence along with craft and skill
Tirelessly and with meticulous attention to detail, the passionate designer perfects her dirndls into extraordinary one-of-a-kind pieces: A typical working day starts early. In the week before the Oktoberfest the fashion designer can be found working at her desk at four in the morning. Things are quiet then and she can concentrate on drawing designs: "Every dress is an individual design. In my mind's eye, I see the person who will wear the dress and work out specific details." The new development of a design with gradations - meaning available for all sizes - takes about half a year.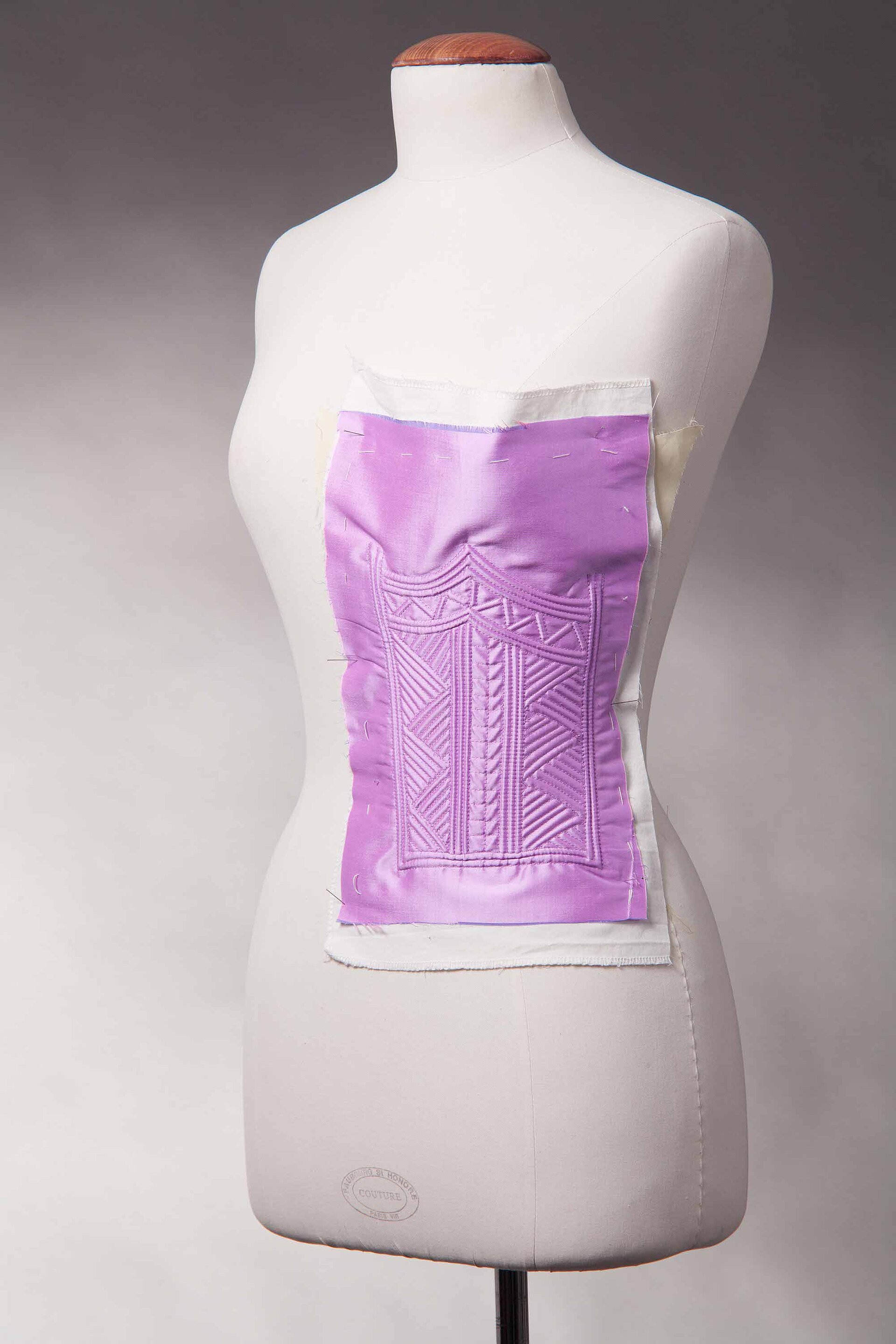 There is no garment that is better (than a dirndl) at showing off a woman's figure, whatever their size
Vivienne Westwood, Fashion Designer
"During the day, customers arrive, who want attention from me and my mother, Brigitte Paltinger. I design each fabric, each hook, each embroidery, simply every detail," says Paltinger. "I enjoy setting new accents in my own collection, maybe even surprising myself a bit. I have the best ideas when I am not fully focused on fashion, but when I am outside with my animals enjoying the great outdoors, in a museum or visiting the theater," The designer does not have a secret recipe. "However, hard work and persistence along with craft and skill are involved but, particularly early in a career, a little bit of luck also helps."
Lola Paltinger is living her dream
Your best professional experience? "I have had so many, often it's not outward success but a nice experience with customers, praise from a special person, who you also admire. When I think back, I have met so many wonderful people. I have a special place in my heart for Vivienne Westwood and Margarethe van den Bosch, previously creative head at H & M, who imparted so much wisdom during my internships. And, of course my mom, who teaches me so much."

What are the best moments? "I think it important to surprise people with new fashions and offer a new image every season, not just with colors, but also with forms, details and proportions. If the customers like the collection, it fits perfectly and generates compliments, that is the highest possible praise for me," she says. With every one of her sentences you can feel that: Lola Paltinger is living her dream. She is a passionate fashion designer.