Electric cars are taking our roads by storm, and their numbers are expected to grow in the years to come. But the rise of electromobility also poses new challenges for us.
In particular, advancements in developing more powerful batteries enabling faster charging times and greater ranges harbors also entail risks. This is because the increase in output also generates more heat, which can lead to dangerous situations such as "thermal runaway": If a battery gets too hot, it speeds up the chemical reactions inside of it. This results in massive heat generation, which can quickly spread to the entire battery pack. This can destroy the battery within seconds, or even cause an explosion or fire to break out.
Roughly 100,000,000 electric cars worldwide will be on the road by 2030
Freudenberg Sealing Technologies (FST) has developed a groundbreaking solution that slows the process of heat, fire and hazardous particles spreading to adjacent cells, which gives occupants enough time to get out of the vehicle. The material is resistant to electricity and can withstand temperatures of up to 1200 degrees Celsius. It acts as a flame barrier and is installed between the individual battery compartments. As such, it provides an additional shield that prevents heat and fire from spreading. It entered the running as a finalist for the Freudenberg Innovation Award in 2023.
We have done more than simply copying or improving existing materials – we've developed a completely new family of materials.
Richard Zuber
"We have done more than simply copying or improving existing materials – we've developed a completely new family of materials," explains Richard Zuber, Director Materials & Process Industrialization T&I MT at FST in Weinheim. "The special fibers we've worked into the base polymer give the new material extreme resistance and – together with other stabilizing filler materials – imbue it with important properties that slow down heat generation. It is resistant to electricity, withstands extreme heat and retains the particles that are released when a cell undergoes thermal runaway."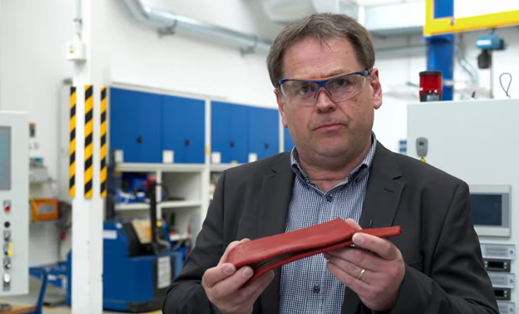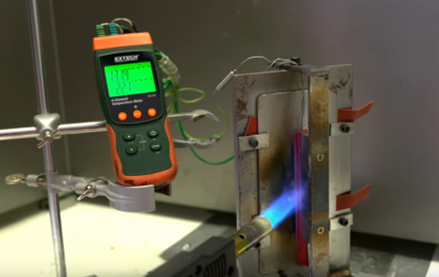 Production in complex geometries for OEMs
"During development, we not only measured the temperature development on the front side of the material, but on the back side as well.
This way, we were able to ensure that our material holds flames back and prevents the heat transfer they cause," adds Paul Hochgesang, Material Development at Freudenberg-NOK Sealing Technologies in Plymouth.
The innovative material can be fully injection molded or extruded to meet customers' specific requirements and is part of a group of different flame barriers that FST manufactures in complex geometries for various OEMs.