Our joint venture with Japan Vilene Company (JVC) in Chengdu, Freudenberg Vilene Filter (Chengdu) Co. Ltd., celebrated its 10th anniversary. To some of you, the Chengdu-based company is probably better known by its internal acronym FVFX. The plant manufactures cabin air filters. Chengdu is located in the Xindu District and is home to more than 30 automakers, including FAW-Volkswagen, FAW-Toyota, Volvo, Geely Lynk & Co. and Shenlong, a large number of which we supply.
"The rapid development of Chengdu as a hub for the automotive industry is proof that we made the right strategic decision when we located the joint venture in this area ten years ago", stated Mr. Zhu Yuexin, General Manager of FVFX.
A number of guests of honor expressed their congratulations, among them the Management Boards of FFT and JVC (both via video messages), Ms. Bettina Schoen, Regional Representative Asia of the Freudenberg Group, Dr. Jörg Sievert and Mr. Toshio Yoshida, the chairmen of the first FVFX board (both via video messages), Mrs. Silke Röfer, Consul General of Germany in Chengdu, and Mr. Qiming Zhang, Government Officer of Xindu District, Chengdu. On behalf of the Automotive Division, Tim Wei congratulated the Chengdu team.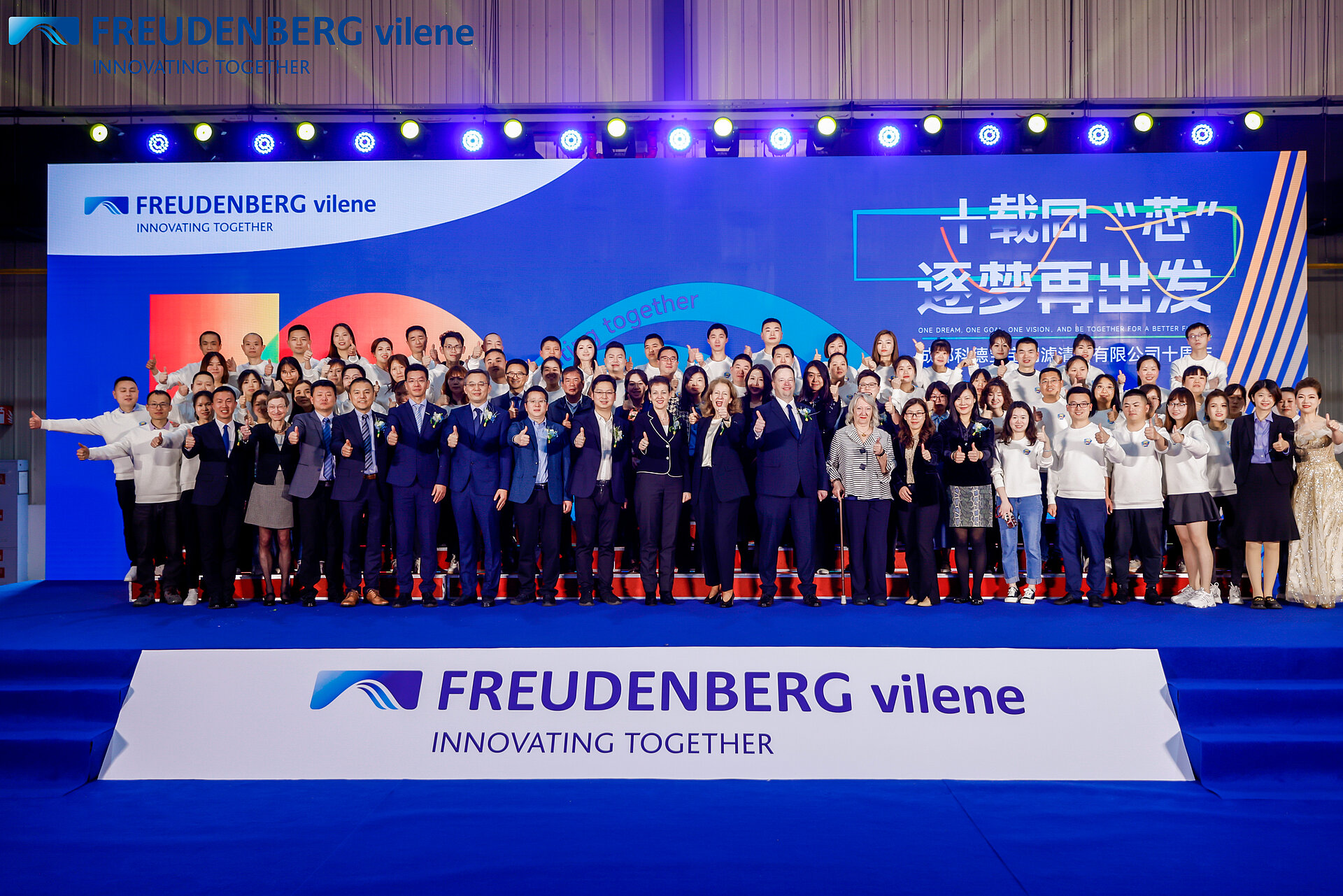 The team at the Chengdu site produces particle, combi and multifunctional filters, such as anti-allergy products. After the COVID-19 outbreak in 2020, they have supported the development and production of antibacterial and antiviral products. FVFX also manufactures solutions for the growing electric vehicle and hydrogen fuel cell markets.
Over the decade, the Chengdu site has doubled its production capacity and increased the number of products from 14 to more than 500. The team has achieved the remarkable success of "zero accidents" since its inception. Putting customers' needs first, FVFX has adopted a "zero defect" quality culture, and implemented Six Sigma management. Against a background of continuous production growth​, the company's quality costs have decreased by more than 60% and scrap costs by nearly 25%.
FVFX's commitment to environmentally friendly production is evident throughout the value chain. The site has automated several production processes, implemented digital management systems, established paperless factories, and is constantly striving to develop environmentally friendly and smart production. The plant also takes social responsibility and has received numerous awards and accolades, including "Advanced Enterprise in Safety Production (Fire Fighting)", "Level 3 Enterprise in Safety Production Standardization", and "Most Caring Enterprise in Xindu County, Chengdu".​