Chemistry is like a treasure hunt for Nsa'nkwe'ni NSISSAE, where she can discover new secrets about life every day. As a chemist, Nsa'nkwe'ni develops natural food colors for the confectionery industry at the Freudenberg subsidiary CAPOL in Canada.
By discovering chemistry, you discover yourself
A new red for strawberry ice cream or blue for gummy bears: Nsa'nkwe'ni NSISSAE's job is a childhood dream come true. She works with sweets every day and, together with her team of four, she makes sure they look both colorful and appetizing. "I only develop formulas for products that I'm willing to eat myself," says the native French scientist, who has a true passion for sweets.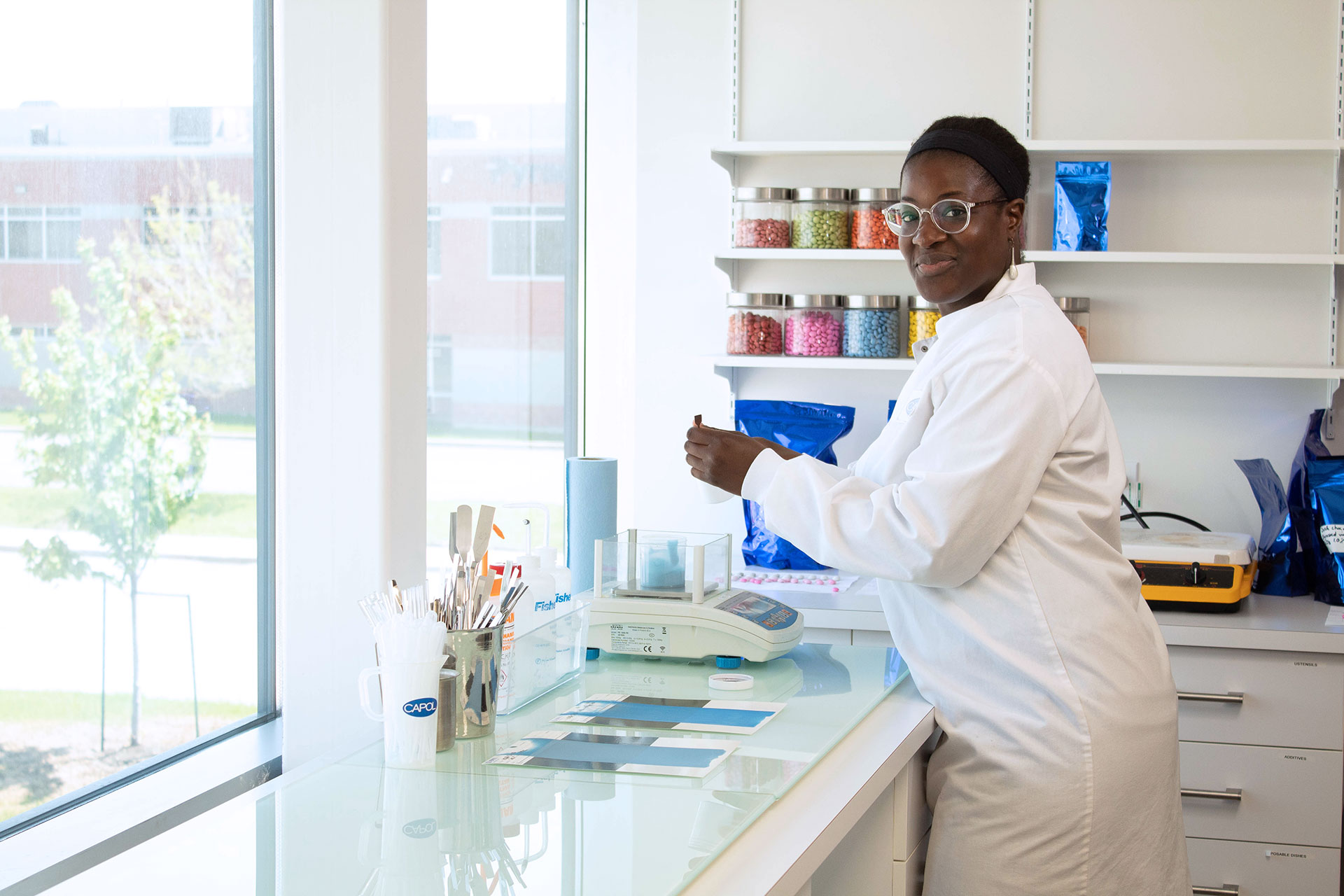 Nsa'nkwe'ni (pronounced: "San kwaynee") has worked at CAPOL Inc., in Montreal, Canada, for eight years. Initially, she was employed in quality control. But when she learned that the company was developing food colors that are primarily of natural origin, she was so impressed that she changed her job after just a year. Since then, she has been developing new colorings, together with her team, to expand CAPOL's product range for confectionery and food industry customers, and to create tailored products for them.
In recent years, people have become increasingly environmentally aware. "Healthy and sustainable foods are trending among customers," says Nsa'nkwe'ni. Nowadays, customers look for clean label foods that contain as few processed ingredients, sugar, or artificial additives as possible. Organic products are also much more in demand.
"So sweets need to be all-natural, all healthy, and all plant-based," she says. While synthetic colors are more stable and often cheaper than natural ones, such additives are increasingly unpopular with consumers.
Sales by the German confectionery industry at home and abroad in 2021
The art of plant-based food coloring
All CAPOL's colorings in the VIVAPIGMENTS® product range are therefore natural and often extracted from such mundane veggies as red cabbage, red radish, or spinach which, at first glance, sound very little like sweets. "Natural colors have to be stabilized, because they can be affected by external factors," Nsa'nkwe'ni explains.
The color obtained from cabbage, for example, is used not only for confectionery but also for dairy products and beverages. "It colors foods pink, red or purple, sometimes even blue," she says. "But when you change the pH of the solution, the color changes. It's a fascinating experiment that's great to show to non-chemists."
The challenge for food chemists is in reconciling the fact that end customers often seek both the brightness and boldness of synthetic colors, as well as an all-natural ingredient list. Whether natural colorings with a similar intensity can be achieved depends primarily on the application and how that specific food product is produced. "The art is in finding the right balance and a happy medium – vibrant colors extracted from plants," explains the specialist.
Her current project? The color white. Until now, the white pigment titanium dioxide has been used, for example, as a light base for colored chocolate beans. But the pigment is set to be replaced in many countries around the world. "So, we are researching an alternative to titanium dioxide," she explains. "White is difficult to achieve." The team is already close to completion of the project and has already sent samples to customers. "But it usually takes time for customers to implement new ingredients in production. So, patience is the key now."
Nsa'nkwe'ni says she has been intrigued by chemistry ever since she was a child. She has always loved exploring nature and discovering how things work on a micro-level.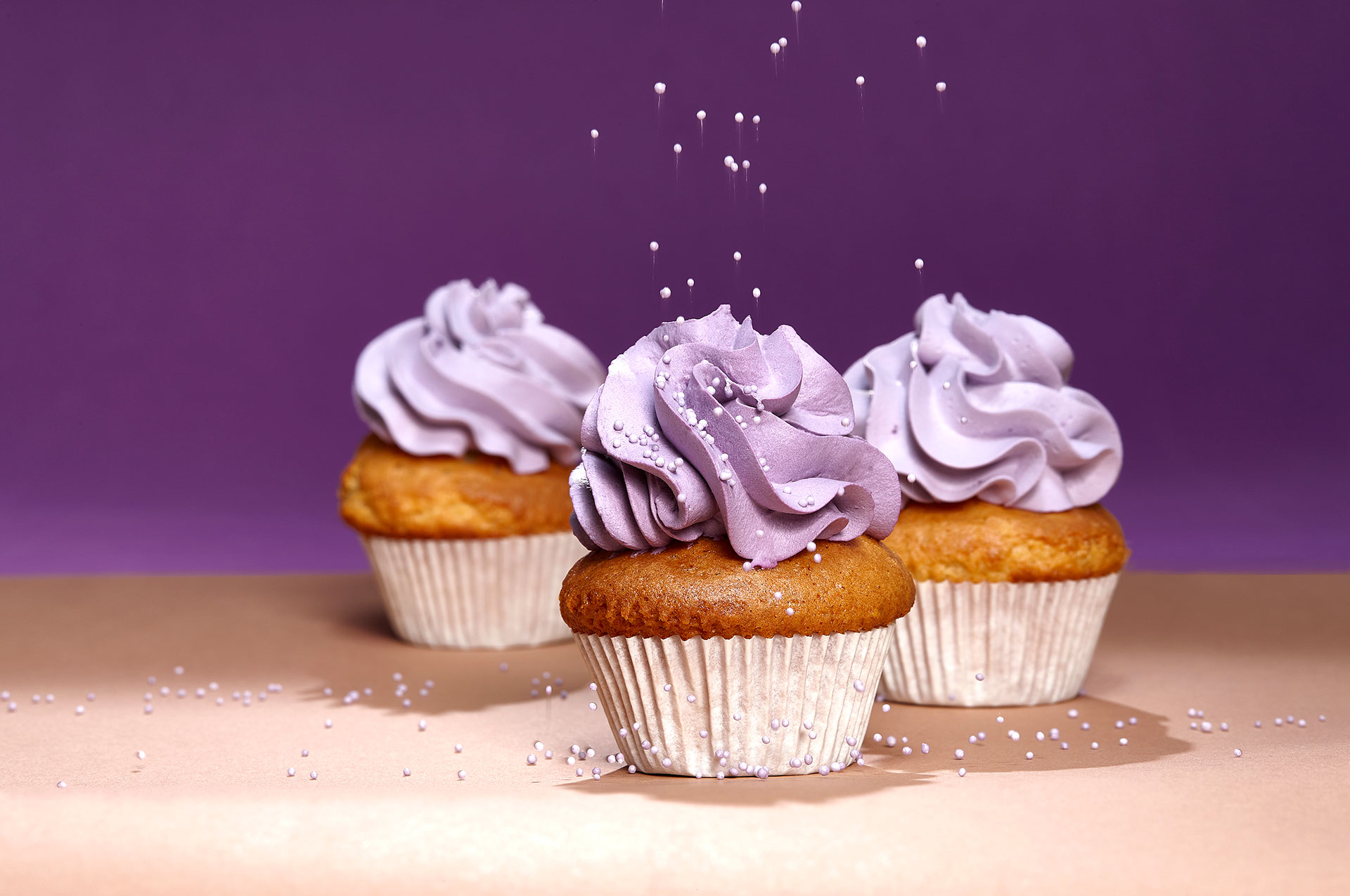 Chemistry is not just about chains of molecules. It is the science behind all nature, and it shapes our everyday lives.
Nsa'nkwe'ni NSISSAE, Chemist and Natural Food Color Specialist at CAPOL
In secondary school, her passion for the sciences deepened and she decided to go on to study chemistry at university.
During her studies, she was particularly inspired by two women professors. They were able to explain the intricacies of chemistry with such clarity that even complex matters became easy to understand, building a bridge between theory and practice. With their special way of teaching, the two professors helped their students understand how chemistry shapes our everyday lives and how it can be applied.
Nsa'nkwe'ni learned that chemistry is about much more than just chains of molecules. "It's the science behind all nature, and it shapes our everyday lives." Exploring the world of chemistry at a deeper level was like a treasure hunt for her, as she discovered life's new secrets every day.
"If you work with chemistry, you understand how things interact. For instance, if you're familiar with water molecules, you then know why they behave in a certain way when it's cold and in another when it's hot." She concludes: "And water is everywhere. If you have an understanding of molecules, you have an understanding of life."
"There's something playful and artistic about exploring colors all day long," she explains – especially if you have a true passion for, and a solid scientific base in, chemistry. All this to say that she's something of a food artist as well as a chemist.
The food industry is one of the most highly regulated sectors in the world. Every product and formula must be developed within a strict regulatory framework. Even so, regulations can't spoil the fun for Nsa'nkwe'ni, because she simply loves the world of colors. "I go through the world with my eyes and mind open to stay on top of the latest developments in the food industry," she says.
For instance, she explains that Spirulina, a high-protein blue-green algae, which has been a standard ingredient in foods in Europe for decades, was only approved for food use in Canada in 2020.
This is great news for CAPOL's food colorings, says Nsa'nkwe'ni, because it opens up lots of new possibilities, such as making gummy bears blue. "Like white, blue is a difficult color to achieve. You can't get blue without Spirulina, especially when it comes to acidic foods such as gummy bears. But children love blue food! With Spirulina, we can enrich the world of food colorings the natural way."
From a new recipe to market maturity
It can take upwards of nine months or more for a new formula to be developed. Only then, can it go into production and hit the candy aisles. Nsa'nkwe'ni enjoys every minute of the process: "My work is so much fun." She says this is also thanks to a great team and the fact that her job gives her the time and opportunity to research and put her ideas into practice. "It's nice when the customer asks for something, and I'm the one who makes it happen," the chemist explains. "I love the small, sweet taste of success."
And what are her plans for the future? "I want to find new extracts – a new blue, a more stable red," she says, "preferably all the colors of the rainbow."